Check out what's happening in the Diocese and Archdiocese.
MIRACLE ON ATHOS
A miracle has occurred on Mt. Athos—the body of a deceased monk has been found to be without any signs of corruption and not emitting any foul smell, a month and a half after his repose.
The deceased monk Fr. Stephen labored in the skete of Kavsokalyvia for forty years.
Fr. Stephen led an ascetic life. In his cell he had no bed, no blankets, but slept on bare boards and ate sparingly.
The ascetic reposed in the seventy-fifth year of his life and was buried as a monk of the Great Lavra, to which Kavsokalyvia Skete is assigned.
The skete is widely known thanks to St. Porphyrios.
Kavsokalyvia skete consists of forty huts and is located south on the Athonite peninsula at a height of 395 feet above sea level. The name "Kavsokalyvia" is translated as "burning huts." It is connected with the name of Venerable Maximos the Kavsokavlyvite, who would build huts for himself on these cliffs and after a while burn them.
Source: http://www.pravoslavie.ru/english/99957.htm
Read more...
Response of Assembly of Bishops to Obergefell v. Hodges
July 2nd, 2015
The Assembly of Canonical Orthodox Bishops of the United States of America strongly disagrees with the United States Supreme Court decision of June 26,Obergefell v. Hodges, in which the Court invents a constitutional right for two members of the same sex to marry, and imposes upon all States the responsibility to license and recognize such "marriages."
The Supreme Court, in the narrowest majority possible, has overstepped its purview by essentially re-defining marriage itself. It has attempted to settle a polarizing social and moral question through legislative fiat. It is immoral and unjust for our government to establish in law a "right" for two members of the same sex to wed. Such legislation harms society and especially threatens children who, where possible, deserve the loving care of both a father and a mother.
As Orthodox Christian bishops, charged by our Savior Jesus Christ to shepherd His flock, we will continue to uphold and proclaim the teaching of our Lord that marriage, from its inception, is the lifelong sacramental union of a man and a woman. We call upon all Orthodox Christians in our nation to remain firm in their Orthodox faith, and to renew their deep reverence for and commitment to marriage as taught by the Church. We also call upon our nation's civic leaders to respect the law of Almighty God and uphold the deeply-rooted beliefs of millions of Americans.
Read more...
Axios! Metropolitan Joseph is Enthroned by Patriarch John X of Antioch
On Saturday, December 6, 2014, the Feast of St. Nicholas, His Eminence Joseph, Metropolitan of New York and All North America, was enthroned at St. Nicholas Cathedral in Brooklyn, New York, by His Beatitude John X, Patriarch of Antioch and All the East. May God grant him many, many years!
Read full article here. 
Read more...

Enthronement of His Eminence Metropolitan Joseph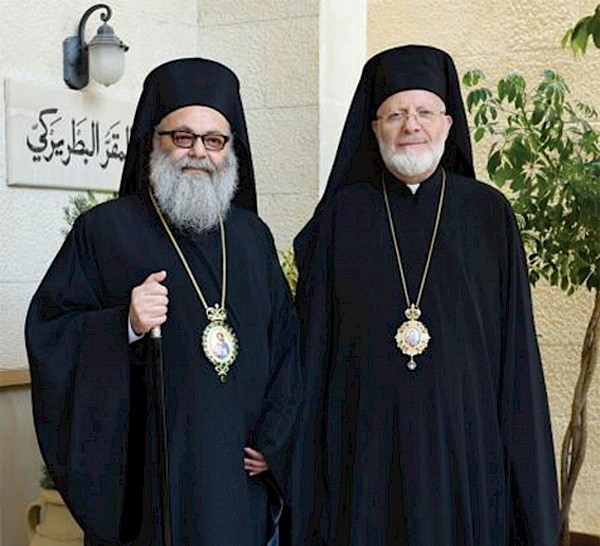 The Word Interviews Metropolitan JOSEPH
Bishop John visited Metropolitan Joseph on July 26, 2014, to receive his blessings and a message for the readers of The Word. Metropolitan Joseph was hospitable, candid and loving. Here is what he had to say.
We thank God for all of His blessings, wisdom and guidance bestowed upon us. I thank our Father in Christ, Patriarch John X, for his leadership, love and constant prayers for this Archdiocese. We pray to almighty God that He will grant our Father, Patriarch John X, strength and perseverance during this critical time in the life of our Patriarchate, especially the challenges and danger facing the people and land of the Middle East. We thank my brother Metropolitans, the members of the Holy Synod of Antioch, for their confidence, their love and their support. I also would like to take this opportunity to thank my brother hierarchs of this Archdiocese for all of their hard work, godly ministry and efforts to maintain the unity and strength of our Archdiocese. We pray that the merciful God will remember our beloved Metropolitan Philip in His heavenly Kingdom and will reward him richly for all of the accomplishments realized during his half-century ministry. He left for us a big legacy to build upon.
Now we begin a new chapter in the life the Archdiocese. The Archdiocese is not one person, but the whole body; metropolitan, hierarchs, clergy, monastics and all the believers.
Read more...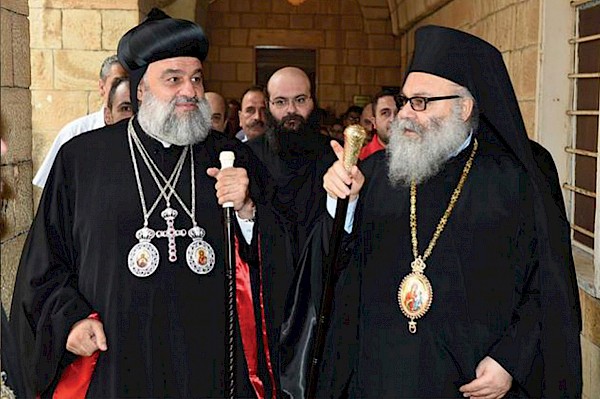 Patriarch JOHN X Hosts Historic Meeting
In a historic meeting on August 17, 2014, His Beatitude John X, Patriarch of Antioch and All the East, hosted His Holiness Mar Ignatius Ephrem II, Patriarch of the Universal Syriac Orthodox Church, along with a distinguished delegation traveling with him. The meeting took place at the ancient St. George Antiochian Orthodox Monastery located in the "Valley of the Christians" in the town of Meshtaye in northwestern Syria. Before his election to the Patriarchate, His Holiness served as Archbishop of the Eastern United States for the Syriac Orthodox Church.
A complete English translation of the welcoming speech by Patriarch John X can be read at Notes on Arab Orthodoxy. Patriarch John X said in part:
It is a great pleasure for me to say to you, "How good and pleasant it is for brothers to dwell together!"
The Psalmist once said this and today your sweet faces and the smiles of your children say this. The stone of this holy monastery say this. If they could speak, they would sing of their longing to see loved ones and would chant welcome to them all as living stones in the body of the Antiochian Church that first sang the name of Christ and spread it to the lips of all humankind. We welcome you most warmly. It is better for us to say: welcome to your home in the Monastery of Saint George. Our meeting today is a message to the world that the seeds of Christian unity will by watered first by us in Antioch, just as Jesus' disciples were first called Christians in Antioch.
Read more...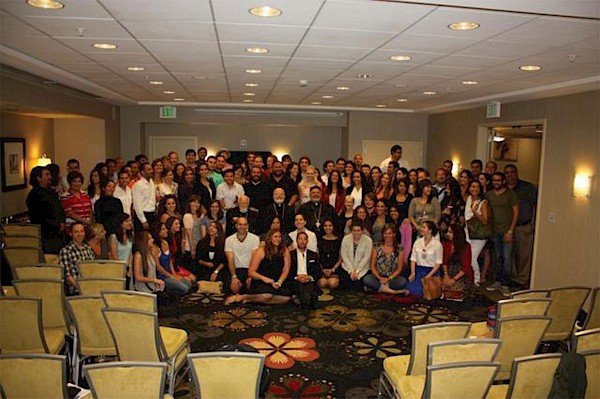 Young Professionals Conference Encourages and Inspires
On August 14–17, 2014, the NAC Fellowship of St. John the Divine hosted the Orthodox Young Professionals Conference in San Diego, CA. This conference, the culmination of a year-long effort, was the first of its kind for any Orthodox jurisdiction.
Co-Chaired by Kyra Pelachik and Fadi George Madanat, the Orthodox Young Professionals Conference brought together 125 Orthodox young adults representing every major metropolitan area in the United States, as well as Vancouver, Toronto, Montreal and Ontario, Canada. The conference gave attendees an opportunity to network, listen to prominent speakers, engage in very meaningful and practical discussions about their faith, and learn about the interdependence between their personal lives and the life of the Church.
His Eminence Metropolitan Joseph, in special attendance at the conference, shared his vision for Orthodoxy in North America.
Read more...